Realigning All Of Creation
The word "alignment" has been moving me to make necessary adjustments in my own personal life for the past 5 years.
Once in awhile, I love to look up definitions of words and the meanings behind them. It expresses a whole lot more than just quoting the word itself and refreshes our understanding of the full intention.
The word, alignment:
1: the act of aligning or state of being aligned; especially: the proper positioning or state of adjustment of parts (as of a mechanical or electronic device) in relation to each other;
2a: a forming in line;
b: the line thus formed;
3: the ground plan (as of a railroad or highway) in distinction from the profile;
4: an arrangement of groups or forces in relation to one another.
I love that... "the proper positioning or state of adjustment of parts in relation to each other."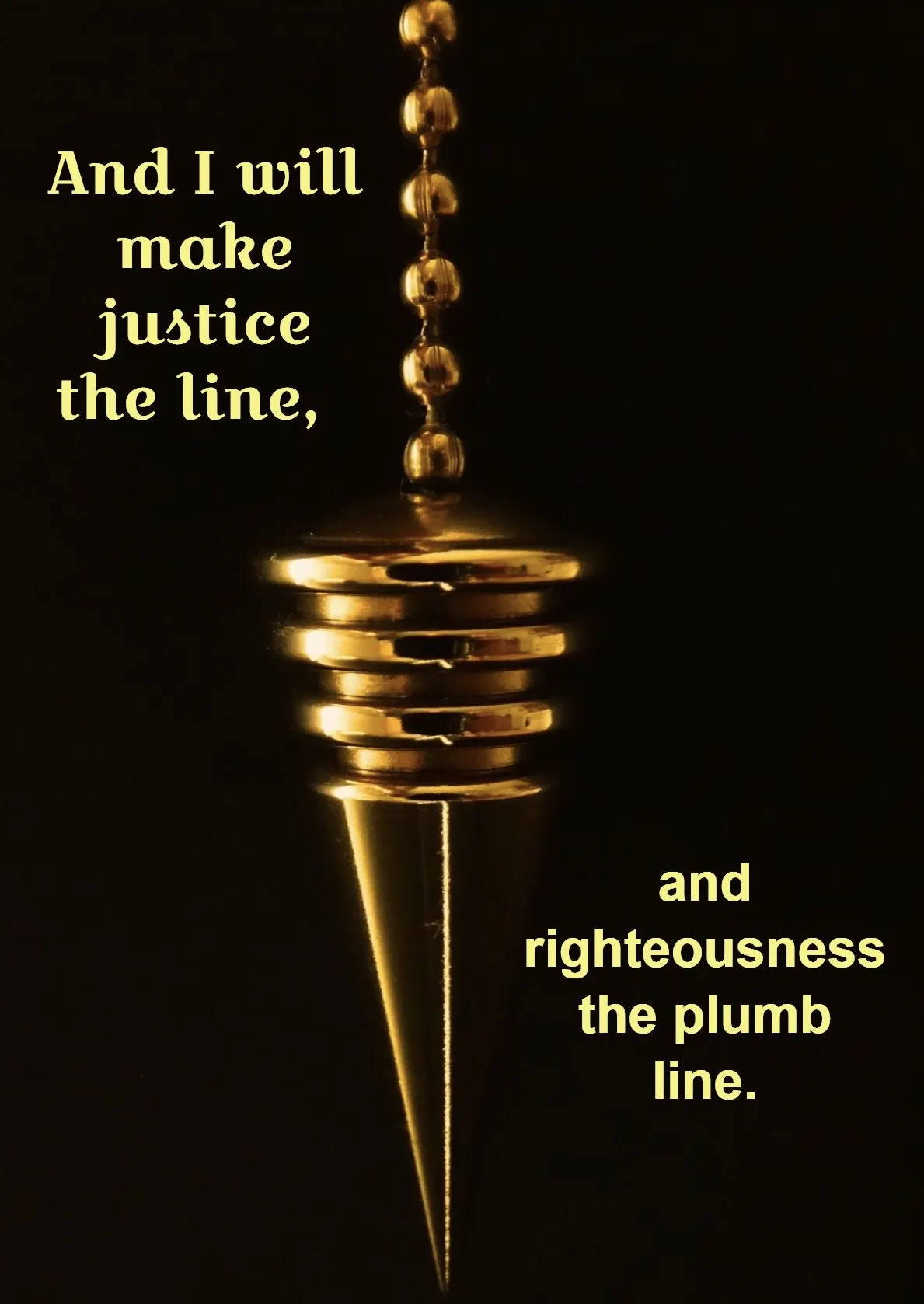 Thinking back a few years ago, I was sitting in a conference of a particular ministry that my wife and I happen to be advisers to. I was listening to the epic anointing of modern-day minstrel, Don Potter. If you're not familiar with Don, he's a great story-teller in song. He releases his message and words of revelation through singing. It is powerful to say the least.
While I was sitting there listening and minding my own business, I was caught up in a trance-like encounter that was a real as if I were looking you right in the face, "in the flesh". Only it wasn't, it was in the Spirit.
I was looking into the expanse of the cosmos, and suddenly out of the heavenlies, was what I would say resembled the face of God! Although the only thing I could see clearly was His mouth, the rest was a shape, but all too bright.
As I stood in awe of this wonder, I saw His mouth open, and out of it a plumb line was released. I watched as it made it's way, dropping into the very core of Planet Earth. I looked closer, I could see all of the dispensations of time as we know it, that had been dictated and written on the line holding the plumb bob.
When it hit that core, immediately millions of shafts of pure white laser-like light, ricocheted into the molecular level of everything that had been, is, and ever will be! His spoken word at creation was as light, and the frequency of it, as a loving realignment of His handiwork from the heart of the Creator. . . .a "holy adjustment".
As I continued to watch, I knew in my spirit that this "heavenly plumb line" would cause great chaos in the earth, as the planet and it's 7.5 billion inhabitants were forced to adjust to the groaning's of freedom from decay.   
This adjustment is meant to satisfy the cry of "ALL THINGS" to be brought back to "normalcy". . . . "on Earth as it is in Heaven."
The frequencies of His spoken release at creation covered past, present and future, as He embraced you and I in His heart the entire time. This is the continued unveiling of the sons of God for the sake of perfect divine order as was in the beginning.
"My frame was not hidden from you w
hen I was made in the secret place,
when I was woven together in the depths of the earth.
Your eyes saw my unformed body;
all the days ordained for me were written in your book
before one of them came to be." -

Psalm 139:15-16

New International Version (NIV)
"Now the word of the Lord came to me, saying, '
Before I formed you in the womb I knew you,
and before you were born I consecrated you;
I appointed you a prophet to the nations.'" -

Jeremiah 1:4

English Standard Version (ESV)
"The entire universe is standing on tiptoe,
yearning to see the unveiling of God's glorious
sons and daughters!
For against its will the universe itself has had to endure the empty futility
resulting from the consequences of human sin. But now, with eager expectation,
all creation longs for freedom from its slavery to decay and to experience with us the wonderful freedom coming to God's children." -

Romans 8:19-21

The Passion Translation (TPT)
These passages and spoken words along with their frequencies which were written in Genesis at creation, continue to reverberate now. It's the heart of an amazing, loving Creator in the earth today.
It's that same frequency that dropped the plumb line deep into the core of who we are that is meant to adjust you and I and bring us into alignment for divine order. His glorious day is being made manifest on the earth for eternity's sake. It's all about the restoration of all things... the blueprint of Papa's original intention.
If you look in the books of Zechariah and Amos, the plumb line of Heaven was used as a divine measurement to realign God's people and set them back on His path of purpose. You and I are well on our way, as a New Covenant (Kainos) generation, hidden in grace and lavished in the unconditional love of Yeshua. We are also once again, under the plumb line of Heaven, although this time, He's realigning ALL of creation.
Let me tell you today, that not all things that you are currently facing, are the "works of darkness". For a Believer, some are, but most aren't, unless you are giving the enemy the attention he thrives on.
If you are going through situations right now that seem beyond your control, lean into it, ask Holy Spirit what it is. So many times, that seeming chaos in our lives is a "holy chaos" and is all about Heaven's realignment for the necessary stature that He is wanting you to walk in, just like a proper chiropractic adjustment.
The realigning of all creation, means that ALL that was created is responding to the frequencies of the spoken plumb line of perfection dropped into the core of their purpose "IN THE BEGINNING".
With that in mind, both light and darkness, is knowing this "holy chaos" released for the "restoration of all things", thus the condition of our world as we currently know it.
Honestly, we are in the most critical time for the Church to choose to rise as the powerful Ecclesia (Heaven's original intention for the Church).
My word of encouragement to you today is that you remain poised through intimacy with the Father for Heaven's alignment in your personal journey with Him!
Realigning All Of Creation
John & Ruth Filler discuss an encounter John had regarding the current realigning of all creation by the frequencies of the spoken Word.